Ron Grady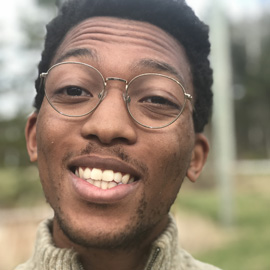 Grady, Ron
The debut picture book by author/illustrator Ron Grady, WHAT DOES BROWN MEAN TO YOU?, follows a boy through his day as he plays, paints, bakes and notices the fur on his dog and other things that are brown and give a sense of comfort and beauty.

In BEATRICE LOOKS FOR HOME, when Beatrice and her dads move to the city from the country, she's worried that she'll never feel at home again. Both the nature that was her playground and her grandmother are far from her. But, when Gram sends Beatrice a special box filled with tools to see the city in new ways, Beatrice finds that home is all around her. Ron notes as his inspiration that children's lives are full of transitions, big and small. They find agency and purpose in a world that often feels out of their grasp. He writes: "I hope that children remember that the love of those in their lives follows them across time and space - and that, whatever their circumstances, beauty and wonder lurk just beneath the surface."

Ron Grady is a preschool educator and researcher. His website, Childology.co, hosts his blog and illustrated resources for educators, parents and caregivers.
(Co-agent for WHAT DOES BROWN MEAN TO YOU?: Betsy Amster)
Books
BEATRICE LOOKS FOR HOME (Nancy Paulsen Books/Penguin)
WHAT DOES BROWN MEAN TO YOU? (Nancy Paulsen Books/Penguin)