George Shannon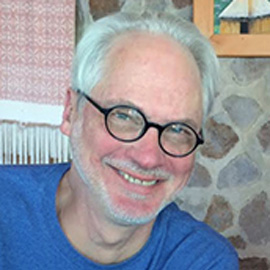 Shannon, George
A "Teachers' Pick" on Amazon, ONE FAMILY has earned praise from many quarters. Horn Book notes: "... characters representing a broad array of races, cultures and familial make-up populate this loving concept book about the multitudes contained in the number one. 'One is five. One bunch of bananas. One hand of cards. One family.' In Shannon's simple, lyrical text, well-chosen, child-accessible details suggest larger concepts of unity and collectivity, differences and commonalities, while still bolstering the fundamentals of enumeration."

HANDS SAY LOVE celebrates the many small, tender moments we share and is a reminder that even the simplest gesture - "hands that help the baby walk/hands that make a puppet talk/toss a ball/stop your fall/" - can be a profound expression of love. School Library Journal observed: "For a family read or simple identification of the day's activities, this charming book sends a loving message."

WHO PUT THE COOKIES IN THE COOKIE JAR? has received many positive reviews, including: "An appealing way to introduce the globalization of our food sources for the very young" (School Library Journal) and "A hand dives into a cookie jar to pull out a treat. But how many hands were needed to put the cookie there in the first place? With a text as simple as the pictures are stylized, this is a charming look at the process" (Booklist).

In TURKEY TOT, "A determined turkey gets the sweet, juicy, high-hanging berries ... Then he shares them ... Good for Turkey Tot: freethinking, resolved, generous" (Kirkus Reviews).

George Shannon is the award-winning author of over thirty picture books. He is an educator, storyteller and children's librarian.
(Co-agent: Betsy Amster)
Books
WHO PUT THE COOKIES IN THE COOKIE JAR? (Henry Holt; Julie Paschkis, illustrator)
ONE FAMILY (Frances Foster Books/Farrar, Straus, Giroux; Blanca Gomez, illustrator)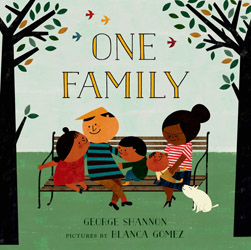 HANDS SAY LOVE (Little, Brown and Company/Taeeun Yoo, illustrator)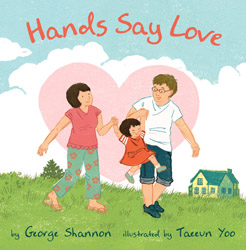 TURKEY TOT (Holiday House; Jennifer K. Mann, illustrator)