Angela Dalton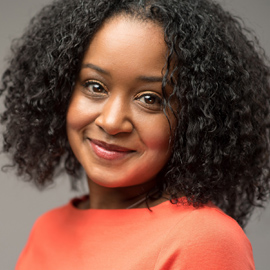 Dalton, Angela
Photo Credit: Matthew L. Wong
Ruby wants to make her own "signature dish" for the soul food dinner at the family reunion, but she's too small to work at the hot stove or grill or to cut up the onions. What can she contribute to the feast? Find out in RUBY'S REUNION DAY DINNER! It has received wonderful reviews, including a starred review in Publishers Weekly, calling it a "... big-hearted picture book ...This hopeful, mouth-watering narrative showcases tender family rapport"

SHOW THE WORLD asks kids what they will do, say or create to express who they are, whether by painting a mural, performing a poem, inventing something out-of-this-world or in any number of other marvelous ways.

TO BOLDLY GO tells the story of "Star Trek" star Nichelle Nichols, and of a child who treasured family time with her parents in front of the TV reveling in the adventures of Lt. Uhura.

Angela lives in Oakland, CA, where she is a member of a social justice and #OwnVoices picture book author and illustrator collective.
(Co-agent: Betsy Amster)
Books
RUBY'S REUNION DAY DINNER (HarperCollins; Jestenia Southerland, illustrator)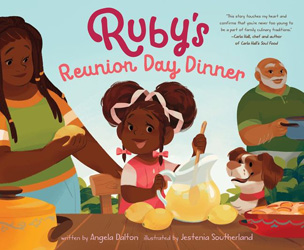 SHOW THE WORLD (Philomel; Daria Peoples-Riley, illustrator)
TO BOLDLY GO (HarperCollins; Lauren Semmer, illustrator)